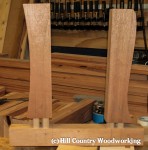 We've finished all of the required lamination.   Whoo Hoo!
After marveling at Michelangelo's statue of Goliath-vanquishing David, the Pope asked the sculptor, "How do you know what to cut away?"  Michelangelo replied, "I just remove everything that doesn't look like David."   Obviously we're not nearly good enough to free hand our seat and leg braces.   Therefore we created templates out of plywood and used a good ole #2 pencil to trace the templates on to laminated blocks of Mahogany.  Using the template lines, we proceeded to remove everything that didn't look like a brace.
Then we started to assemble the ends of the Garden Benches.  The last picture you see is the leg on its side and the seat and leg braces are sticking up.
We've got all the mortises cut and will do the glue ups for the leg assemblies in the very near future.