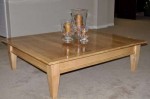 This coffee table and sister end tables were commissioned as a wedding gift. They were made to the bride's specifications. This table has several species of Maple which gives the finished product some tonal variations.
The aprons are made from Bird's Eye Maple.
The coffee table top has a frame of Hard Maple around the outside with Ambrosia Maple in the middle. The end tables are reversed.
The legs are made from Hard Maple.
The finish is an oil based stain with a dozen coats of high gloss hand rubbed polyurethane.
The pictures are a close up of the table top, the leg and apron detail and the finished product.