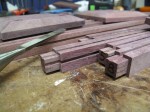 These were commisioned by M.O.F., and were recreated from an article he had seen in a magazine.
They are solid purpleheart, and all mortises were hand-cut, and slow set epoxy was used in this project instead of regular wood glue, at the behest of the customer.
The stiles have been installed in both bases so far, and the top pieces simply secured without any glue (just the mortises and tenons) as an anchoring caul system until the epoxy has set (24 hours).
Next the rails will be custom-cut to fit to each opening and then permanently installed in place.