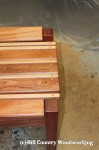 Our "go-to" method of  joinery (assembly) is mortise and loose tenons because it is as strong as the proverbial country mule.  The strength on this joinery is unparalleled.   If it ain't broke, why would we fix it?      You'll see in the pictures below, this is the method we used for base of these Garden Benches as well.
Unlike Frank Lloyd Wright, who purposefully made chairs so they wouldn't be comfortable as to discourage long visits from guests, we want these benches to be comfortable enough to sit on for hours.   As you can see we have a curve in the seat supports.  The human body doesn't have any perfectly straight lines, why should a bench or a chair?    Each of the slats has been rounded over so there are no sharp edges to dig into people's legs.
For some visual interest, we used a combination of wider Mahogany boards and thinner Red Oak  laminated strips for seat slats.   We used  White Oak stepped dowels to attach the slats to the bench's base frame.  This also allowed some additional visual interest and though you can't see it in the finished product, we drilled the holes for the dowels at an angle. When you cut off the top of the dowel and sand it even with the slat, you can't see the angle.  This technique helps keep the slats from having even the slightest change of pulling out over the years.
All these methods worked, because we ended up with 6 grown men sitting on one of these completed bench and it didn't even creak!
The benches are finished with marine grade spar varnish with a satin sheen.  This should hold up to heat, sun and rain to welcome visitors for a good many years to come.