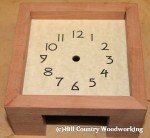 We were at the local lumber yard awhile back and found what we were told was crotch Cherry.  Someone stiffed the lumber yard on a special order so they were willing to part with it for such a discounted rate, we weren't able to leave it behind.
After letting it acclimate in the shop, scratching heads on what to do with it, kiln air dry in this horrible heat …. we were asked for an anniversary clock.  HAZZAH!!  Perfect !  A small piece like that needs some dramatic wood & this clock would be special since it would be a 15th wedding anniversary gift.
We got to work dimensioning the pieces.  That means cutting  it down to manageable pieces, planing it (getting it perfectly flat on 2  adjoining sides) and then re-sawing into thinner pieces.  While doing this we realized this isn't any ole Cherry wood.  This is Madrone!!
Initial inspiration was taken from a commercially drawn and purchased plan, but we quickly threw that to the side and went our own way.  The plan just didn't do justice to God's blessing that was this tree.
We've laminated two pieces for the very top of the clock so we can have a nice (relatively) thick bevel at the top.  There will be one more smaller layer before the body.  The bottom will also have a stepped look by layering several pieces.  The clock back and sides have been joined using through mortises.  The tenons are made from Sipo.    Madrone is beautiful & strong, but a little brittle where there is burl or spalting.  We didn't want it to crack when putting in the tenons, so we'll add an arch to the front cross piece after everything drys.   Molding will be added to the sides to hide the tenons in the end.  The face body will be joined to the inside back via a french cleat to allow for easy battery changes.
Updates will follow ….