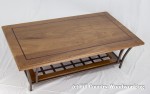 We were contacted by a young man who wanted to restore a coffee table that his mother loved.   The original glass was broken which made it useless and it was relegated to the garage.  Let's just say the elements were not kind. With help of our summer minion we gladly took on the task and broke it all down.
The table top was replaced with a chunky solid mahogany top that had beautiful grain, a bit of quilting & bird's eyes (!!!) in it.   Dimensioned from 6/4 rough stock and joined with humongous 14mm loose tenons, the table top edge was rounded over leaving a bit of a tooth for interest.    The customer liked the Mahogany Dining Room Table we made & requested the same purple heart inlay.  We routed a channel and added a thick purple heart strip.  No wimpy veneered inlays here!
The wooden shelf frame at the bottom was also made from solid mahogany.  We mitered the corners and being a faithful reader of this site, you remember that post on grain orientation & glue ups, right?  Mitered corners are an end grain to end grain joint and therefore inherently very weak.  They, like all of us from time to time, need some help.   Smaller loose tenons were added to strengthen the joint.    The frame's edge was finished by routing an ogee pattern.
The base & shelf lattice are metal.  Minion sanded those pieces down, primed, repainted with rust inhibiting paint and top added a coat to help resist everyday wear and tear down the road.   We let it dry or rather baked it on the surface of the sun out in this ridiculous heat.
As an added bonus, we created a small occasional table with matching purple heart inlay from the off cuts.   We attached the tapered legs & table skirts with loose tenons and the table top with figure eights (which allow for wood movement).
All of the wood was sprayed with our normal water based high gloss urethane finish and the gloss knocked down to a semi-gloss finish.