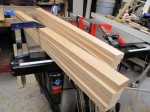 The 8 legs have all now been laminated, jointed, planed and dimensioned to final specs.  Four of these legs will be supporting the left side of the sideboard and four will be on the right.
These laminated legs will now begin to take shape as their respective component assemblies, and are now load-bearing rated at approx 700 lbs ….. each.
It may seem a bit overly careful, but our experience has dictated that the legs must be allowed 24 more hours to achieve final humidity and temperature stability overnight, (i.e. newly planed\jointed\cross-cut wood freshly exposed).
Starting tomorrow, they will be worked steadily over the next few weeks into cabinet sides, corner pillars, carcase front panels and solid wood rear supports.
Stay tuned.