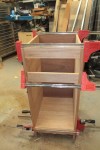 The components pieces have been now been cut to final dimensions for each of the two cabinet "end-pillars".
Between the two pillars, the display shelf stretcher and its bottom tray/shelf area 'bridge' will soon be built.
We have acquired a single sheet of high quality furniture-grade Mahogany plywood, with which we construct the backs of the sideboard.
This is the sole application of plywood we tolerate in our furniture construction. As such it's an ideal use of the material in that, unlike solid wood, it can be captured on all four sides without accommodation or allowance for wood expansion/contraction with seasonal changes in humidity and moisture.
It allows the back of the furniture piece to become far more than simply a screwed-in back panel;
tenoned in, the hardwood-ply back now completely locks the rear portion of the pillar assemblies into an incredibly strong and solid monolithic unit which will last for generations.
Once all construction is complete, we will proceed to tone the wood to the customer's specifications.