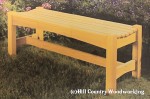 Our next project is 2 garden benches.  These will be heavily used and subject to harsh weather extremes.  We're using our favorite Mahogany because … hey, if it's durable enough for boats, it's perfect for outdoor benches.
Because we want these benches to be extra strong, we've gone the route of laminating all of the pieces.  Now when we say laminating, we don't mean encasing in plastic.
Remember that long grain to long grain post (here)?  Well if you take that a bit further and glue several pieces of 3/4″ dimensioned lumber (rough lumber that has been planed and jointed) together, you dramatically increase the strength of the wood.   A 2 layer lamination will increase the strength ~8 times over and 3 layers will give you ~32 times over!  Basically, you will be able to to park your truck on these benches…. though the lawyers tell us we have to explicitly say we are not recommending you do so.
The first picture below was our inspiration or jumping off point.  Clean lines, deceptively simple, yet strong as the proverbial ox and more durable than Aunt Edith's fruit cake.
When all of the lamination glue ups are completed, we'll use the templates you see below to cut the curves into the brackets and rip (cuts made parallel to the wood grain) the seat slats from those monster pieces in the last pictures.
More to come ….