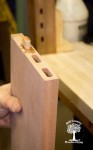 Look at those gams!   <insert wolf whistle here>  In this post we'll show how we've attached the front two legs, added some blocking around the vise and attached the apron with a cut out for the drawer.
As you'll remember from the previous post (here), the legs have an "L" attached to provide some extra support for the rather heavy butcher block table top.   For the back legs, we've cut 2 notches into the top.  This will allow a single structural pillar to go from the caster all the way up to support the shelves.   We used the router with a pattern bit and the plywood pieces shown in the photos as the pattern (or fence) for the router bit bearing to ride against.  While there is a small disadvantage to using a router given it leaves rounded corners, the cut is beautiful and there isn't any blow out  (if executed properly).  A pull saw makes quick work of squaring off the inside corner and gives us a nice crisp square.  You can see the legs dry fit in place in the photos below. They are not attached yet because we've got some work to do with the drawer runners and back apron first.  You will see all of that work in a future update.
The front legs have been attached using 4 loose tenons each and slow cure epoxy.  Epoxy has a bit more shear strength which is why we're using it for this application.  This bench is going to be pushed and pulled and used.  Not put in a corner and babied.  "Nobody puts Baby in the corner!"  (sorry I regressed to the 80s there).  We build furniture to be used!
The front apron has to be split to accommodate the vise.  Because we want it to be still be structural, we've added some additional blocking to the side of the vise's blocking.  The apron blocking was also attached with loose tenons and epoxy.  The small bit of apron between the vise and front left leg (remember the table is still upside down in the photos) has been attached via tenons to each other and to the table top.   The larger portion of the apron has a hole for the drawer cut from the middle thus leaving the remainder of the board one piece and integral.   It has been attached to the right leg using standard blind mortise and tenon joinery and the apron blocking using through tenons.  We've added some cosmetic molding pieces to hide the through tenons.   Two more molding pieces were placed on the apron for symmetry.
Next up … the gigantic drawer .. that doubles as a flotation device!  You will get that reference if you if you follow on us on  Twitter, Instagram (@FromTheHCWShop) or like us on Facebook.  We provide more frequent updates via social media because it's fast and we can spend more time in the shop!