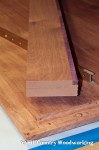 Among several other projects, we've recently been working on a Mahogany dining room table with a Purple Heart inlay.    I know I know.. I can hear you thinking Purple Heart?!    Both woods are phototropic.    Meaning they change with light.  In this case, Mahogany deepens from a fairly light wood to a rich beautiful brown with a hint of red.   Purple Heart REALLY changes.   It starts out just about Barney Purple (as you can see in the gallery photos at the bottom of the post).   Before long, it becomes a very deep purple/reddish brown and is a nice complement to Spanish Mahogany.
Here's a box we made a few years ago.  The feet and dovetails are purple heart.  The rest of the box is Spanish Mahogany.
With this table, we've got a solid Mahogany center that is roughly 3/4″ thick.  We're then adding a frame with the Purple Heart inlay.   The inlay is about 1/2″ thick and the frame is roughly 1 5/8″.  Our customer wanted a thick looking top but didn't want all the unnecessary weight and expense.   We've created a 1/2″ tongue around the entire center and put a channel in the frame to go over the tongue.  What looks like maybe we made the channel a bit too deep is really an expansion gap.  This table could go from a Texas summer to an Alaskan winter and won't bust out of it's frame.
The legs are laminated Mahogany.  The layers of Mahogany (vs one huge thick board) help to keep the legs straight over long periods of time.  It also serves to make them very, very strong.   You could put an truck on these legs and they wouldn't even creak. (Though please don't try this as home

).   They were tapered at our customer's request.
We'll get more pictures posted, but for now …  here's the progress ….